Use case
Aluminium is the most abundant metal on the planet, but it doesn't occur naturally in pure form and that's why aluminium producers have to extract it from its oxide, alumina. Since it's impossible to isolate aluminium by simply melting down the compounds in a furnace, producers use a much more complex process to achieve it – electrolysis. This process requires huge amounts of electricity so ensuring maximal efficiency in the production is of crucial importance. For this uneasy task machine learning can be a great assistant.
The management of one of the leading producers of aluminium in the EMEA region understands the potential of machine learning in the Industry 4.0 digital transformation of their business so they decided to use our tailor-made solution to optimize their workflow.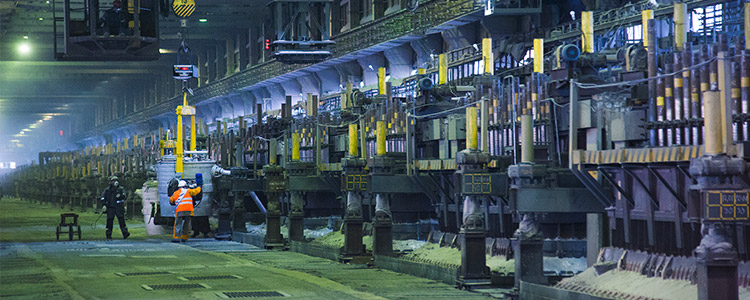 Solution
Teams of experts from Cognexa and a partner company I.S.D.D plus joined their forces and knowledge to create a solution optimizing one of the most important process steps – operation of smelting pots used for aluminium electrolysis. The main concerns of the producer were two important production parameters – temperature and voltage in the smelting pots so the core of our solution were prediction models forecasting the value of these parameters.
We created a digital twin of each of over 200 electrolysis pots what enabled the operators to model the impact of input parameters on each of them and forecast the evolution of the most important technical quantitative parameters. We have also created a dedicated data visualization platform for the operators and their managers, through which they can view the results and perform further analytical exploration of the data.
Result
Even though at the beginning of the development phase the problem was quite challenging, given enough patience and creative redesigning of the models the team succeeded and after implementation of our software toolkit into the clients system the energy consumption and temperature forecasts proved to be consistently more accurate than previous empirical forecasts. The solution is still in use in the smelter.
This step towards digital transformation inspired the customer's team to further advancement in data insights utilization.
Client
Aluminium Producer
Description
Software component for temperature and voltage prediction in smelting pots based on machine learning algorithms.
Impact
More accurate forecasts on energy consumption leading to lower costs and higher production process efficiency ensured by improved temperature control.
Tags